Peter Bjorn And John - Breakin' Point
Article : Antoine Morin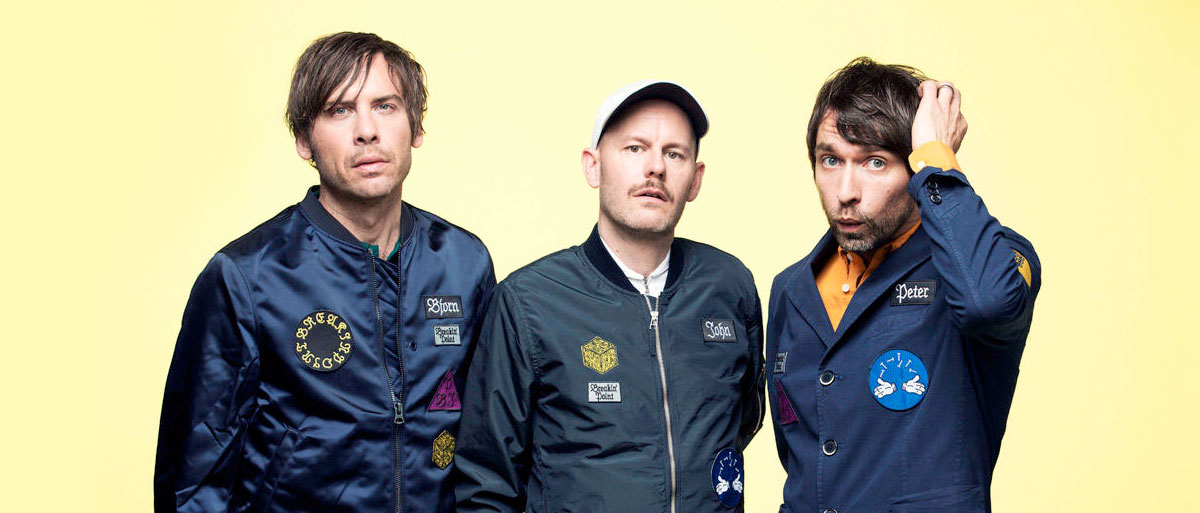 Having waited patiently for five long years for the release of this album, will the fans of these Swedish pop icons be satisfied with this brand new material? The band Peter Bjorn and John composed of singer-songwriter
Peter Morén
, bassist
Björn Yttling
as well as drummer
John Eriksson
have released, last June 10, their
seventh studio album
entitled
Breakin' Point
.
A little more than half a decade after
Gimme Some
, their previous album released in 2011, the energetic trio based in Stockholm decided to come back to their more
indie pop
sound, while their last album had been more concentrated on alternative rock. During the years between those records, Peter has notably presented us his second solo album called
Pyramiden
as well as two EPs called
Broken Swenglish
, while Björn was the producer for artists like
Lykke Li, Coeur de Pirate, Chrissie Hynde and Johnossi
. In the case of John, he worked on his solo project
Hortlax Cobra
and collaborated with electronics firm
Teenage Engineering
.
The three guys now in their forties therefore went back to the source of their success with the album
Breakin' Point
and show us their maturity on the musical scene, confirming their desire to still innovate and evolve as a group. This new work finally offers us twelve interesting songs with a sound that is very typical to the trio but also offering us some more electronic elements, in part brought by various renowned producers who participated to the album such as
Emile Haynie, Paul Epworth and Greg Kurstin
. Released on the label
INGRID
, in which the three members of the band are co-founders (along with acts like Lykke Li, Andrew Wyatt and Pontus Winnberg of Miike Snow and Jocke Åhlund of Teddybears/Les Big Byrd) the band is therefore trying to bring back Swedish pop between the bests of the international music scene.
Hit Song :
What You Talking About
It is the first single of the album and also probably the one that has the most chances of being heard across the globe. It is a very catchy song offering a quite
uptempo
rhythm and a pleasing
new wave
sound. A track that stays in your head, but because of the fact that Peter Bjorn and John remains a relatively unknown (and extremely underestimated!) band, it would be surprising to see it appear on any hit charts.
Strong Link :
Nostalgic Intellect
The choice was not really easy since all the songs seem to be quite equal in terms of quality, but I personally believe that the most complete song is
Nostalgic Intellect
. It is an excellent four minutes with just enough instrumentation and Morén's voice that still predominates ; we cannot ask for more!
Weak Link :
Love Is What You Want
I feel kind of bad to give the weak link mention to this song because it is of flawless quality and it offers an atmosphere to which we are slightly less used to from this band, but it is mainly for that very reason that I chose this track. The song does not seem to fit with much of the album and it would be hard for any PB&J newbie to tell that it really is a Peter Bjorn and John song. Perhaps maybe it would have fitted better if it had been at the end of the album...
Personal Favorite :
Hard Sleep
Three minutes of pure joy signed by Peter Bjorn and John! I truly loved this song right from my first listen, but what really made up my mind to declare it as my favorite is the live performance of the track... Totally magical! I also enjoy the type of ambiguity that resides in this track, because it makes me happy but also sad at the same time... and it seems like the lyrics say the same!

General Notes :
Originality/Uniqueness :
8/10
Classic Peter Bjorn and John! Nobody else can master the
indie pop
and
new wave
combination more than them and they will probably always stay a band of its own kind.
Depth :
7/10
This is not an album with an exceptional depth since all songs are fairly similar. Similar lengths, similar tonalities, but the songs still remain great compositions to discover one by one.
Vibe : 7/10
Joyful vibe, without a doubt, but the album as a whole does not seem to represent... a whole. The songs still match decently well and do not disappoint. I therefore give a 7 because the tracks are simply perfect for a nice sunny day!
Radio Factor : 7/10
Nothing from these songs would make them unable to have some air time on the radio. In fact, all of them are very radio-friendly and if the band was only a little more recognized, I am certain that many of the songs on the album would be quite popular!
Global Appreciation : 8/10
A satisfying seventh album for the huge fan of Peter Bjorn and John that I am. Furthermore, their world tour allowed me to see them live in concert after all that time and it definitely was one of the best shows according to my experience. I want to truly encourage you to buy their tickets and go see them live if you can! Otherwise it is the kind of album we would have normally expected from them, but please guys, do not make us wait another five years for the next one!
To watch : Peter Bjorn and John live in Paris